We're a forward-thinking company who are always on the lookout for talented and inspirational people to join our team.
---
---
Equal Opportunities
We're proud of our diverse team. We recruit our staff through many different channels – offering apprenticeships to young people and ensuring we target minority groups and harder-to-reach demographics.
---
Health
The wellbeing of our people is one of our priorities and we have a workplace that reflects this. Our recent renovation of a Victorian building gave us the perfect opportunity to design and develop a work space that actively encourages a healthier and more active lifestyle. It includes a purpose-built gym facility and workout room, and we also provide an employee cycle-to-work scheme.
See CP Active for more examples of our commitment to health.
We are also committed to the Cycle to Work Scheme.
---
Benefits
We offer a wide range of benefits to our staff, including health plans and pension schemes. We understand the difficulty in striking a healthy work-life balance, which is why we offer flexibility in the workplace that actively supports working parents. We believe employees are happier, healthier and more productive as a result.
---
Training and Career Development
We're committed to investing in our people. That's why we provide opportunities that encourage career development, offering external training courses and ongoing support to ensure that we're always at the top of our game.
---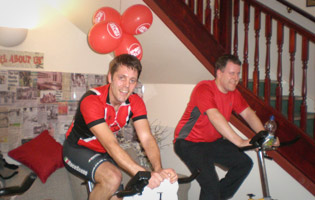 Volunteering
We're passionate about supporting local causes and actively encourage our team to make their contribution to the wider community. We regularly participate in local fundraising events and our team attend volunteer days at local charities.
---
If you're interested in working for CP Media and want to help us realise our vision, please get in touch. For a list of current vacancies, see below.
---
Vacancies
There are currently no vacancies. Please check back soon.